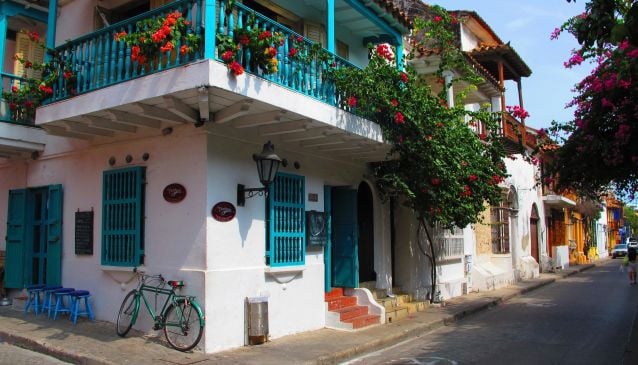 Cartagena de Indias
Arts & Culture
Walled fortresses, historic buildings and colonial villages, the city efferveses with quaint charm.
"
Cartagena de Indias
" is Colombia's first and most important tourist destination; declared a Cultural Heritage Site by UNESCO in 1984. A walled city jostling with Spanish history and culture, we highly recommend you visit Cartagena when coming to Colombia.
To get to Cartagena, you can fly in from
Bogota
, or other Colombian main cities such as
Medellin
. Cartagena's international airport "Rafael Nuñez" receives non-stop flights from New York, Miami, etc. Another alternative way to get into Cartagena is with Sea Cruises; Cartagena's port society estimates that the city will receive an approximate of 195 cruises, organized by 25 different companies in the period from 2013 to 2014.
To reach Cartagena, fly into the city's International airport known as "Rafael Nuñez". It has been recently widened, modernized, and expanded; increasing from 10.491 square meters to 19.831 square meters of usable area, allowing the city to offer airport service packages to tourists coming into Cartagena. There is a taxi service just outside the airport which you can use to get to hotels or other destinations within the city. Depending on the place you are heading to, the taxi fare will range from $5 to $10 USD. We suggest you negotiate the fare before getting into the cab, as taxis in Cartagena do not use a meter.
Located on the Caribbean Sea shores, Cartagena has a rich history dating back to the Spanish colonial era, right up until the Latin American Independence started. Walled fortresses, historic buildings and colonial villages, the city efferveses with quaint charm. A number-one-choice for couples getting married or honeymooning, the city has become a popular choice for romantic escapes. Capitalising on the city's appealing ambiance, most of the hotels offer honeymoon packages which even include getting to the church on a typical horse-drawn carriage.
In Cartagena, there are options to suit everyone's tastes and budgets. There are countless tours around the city, which can be organized in most hotel receptions. We recommend taking a tour on a "chivas" - a colorfully painted bus whereby people dance to the sound of tropical music while exploring the city. Giving you the chance to stop off in different points around the city, walk around the surroundings and then jump back on the bus, this is an excellent way to see the city.
Somewhere else you shouldn't miss when coming to Cartagena is "el Castillo de San Felipe" (the St. Phillip's Castle); a fortification used to protect "Cartagena de Indias" from past English, French, and pirates attacks. Also worth stopping by is "el Convento de la Popa", a former convent located on a hill with a beautiful colonial church, built around 1609. This place gives visitors the chance to enjoy panoramic views over the city and its bay.
Undoubtedly, a very pleasant activity to do while visiting is to walk around the city wall, often called "the little stone fence" by locals; in order to observe the historic buildings, parks and plazas throughout. Whether doing this during the day or night, the city's panorma is effortlessly beautiful. There are also some old churches you may find interesting to visit, such as "
San Pedro Claver
", "
Santo Domingo
", "Santo Toribio" and the cathedral. Other attractive sights include"la Torre del Reloj" (the Clock Tower), San Pedro Square, the
Naval Museum
, Santa Teresa Square,
the Gold Museum
,
Bolivar Square
,
Santo Domingo Square
and the Emerald Museum.
While in Cartagena, be sure to also stop by Getsemani. One of the most traditional and popular neighborhoods in the city, this beautiful place is full of history and culture, encompassing the true essence of Cartagena. Here, you can find well preserved colonial buildings, interesting architecture and a history that dates back to the 16th century. Today, thriving with restaurants, hostels, nightclubs and a cultural center called "Ciudad Móvil" (Mobile City), this picturesque spot is the perfect place to relax and unwind in the evening.
The hotels in Cartagena are all pretty diverse. Ranging from five-star luxurious hotels to boutique hotels, colonial hotels to cozy hostels, there is something to suit everyone. Gastronomy features high on the city's list, with Caribbean flavors highlighted in the tasty local cuisine. Popular dishes include fish cakes, fried rice and tropical fruit. Tropical fruit is also sold all around the city by "Palenqueras", Caribbean women who wear colorful dresses and carry baskets containing an enormous amount of fruits. Other must-tries include the sweets found at the sweets portal located in the historic city center. Sample the famous "arepas de huevo" (egg cakes), "carimañolas" (made of yucca flour), and "buñuelos de frijol" (red bean cakes) served with spice and sour milk cream.
Another big draw to the city is a group of small islands nestled 40 km away from Cartagena named "
Archipiélago del Rosario
" (Rosary's chain of islands). Many of them are private property so access to them is restricted, however, there are two types of tours that do visit these islands (prices vary from $30 to $50 USD per person). These boat tours take about 1 hour to reach the islands, from where you can spend as long as you like sailing around and exploring. Afterward you have finished exploring, the boat will sail to "playa blanca" (white beach) where you can a tasty and relaxing beachside lunch.
There are some other beaches worth visiting while in Cartagena. enjoy. "Baru" is home to some gorgeous beaches covered in white sands and surrounded by transparent-warm waters. To get there, get on a boat from "el muelle de los pegasos" (Pegasus Dock), located near the clock tower . It is also possible to get there by driving (though this may take longer). There is another spot called Punta Arena - a picturesque beach located on Tierra Bomba Island. You can get here by boat also, and the trip takes around 10 minutes from Castillo Grande (Great Castle). As this trip is not too far, you can visit in the morning, have lunch on the island, and then return to the city in the afternoon. It is a great opportunity to relax, enjoy water sports and sunbathe.
Cartagena is a pictuesque city, rich in history and bathed in year-round sunshine (average temperatures range from 77 to 92 degrees throughout the year). With interesting museums, colonial architecture, beautiful beaches and shaded islands, you will find plenty to do while exploring this fascinating part of northern Colombia.