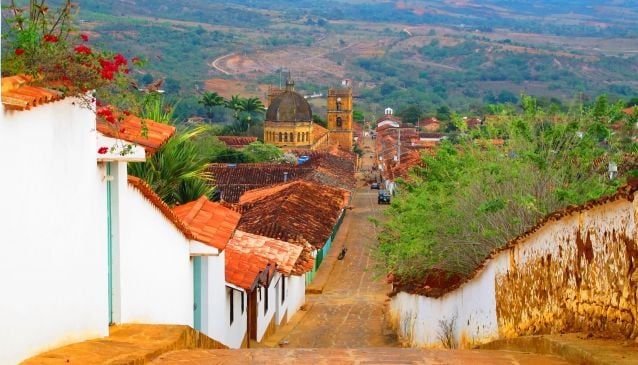 Barichara, Santander
Adventure
Barichara means Resting Place in Chibcha, the language of the Muisca people
Barichara, declared a National Monument in 1978, is considered the most beautiful village of Colombia. It's a real pleasure to photograph such beautiful surroundings; the village lives up to its meaning of 'a resting place', as it transmits calmness and relaxation.
We arrived in San Gil six hours after leaving Bogotá. We rode the 310 miles that took us to the city of Santander. Although the trip was long, we had plenty of time to soak in the stunning landscape that featured plenty of nature and colourful plants as we made our way through the surrounding settlements to our destination.
From San Gil we headed to Barichara, our final destination, which we reached after a further 20km. We went to the beautiful little town through a stone tread portal where visitors are gladly welcomed. In Barichara all buildings including the church, the streets and even the houses are stone made. As a result there are stone craft shops for an excellent souvenir.
In our tour through Barichara, as we wandered down the cobblestone streets, we found four churches that were all built of yellow stone and well preserved. In the central square there is the Church of the Immaculate Conception which is also the largest and most impressive. Uptown we came across Santa Barbara Chapel, at the other end is the Jesus Chapel and in the southern area, the San Antonio Chapel.
Believe it or not Barichara has its own transport system. But what really made a lasting impression was the unusual motorcycle taxi which is nothing more than a motorcycle with a back covered compartment for transporting passengers. This mode of transport is widely used by both tourists and residents of the city. If you are tired but still want to partake in a city tour, there is no better option than to hire this service at a very low cost. But the region of Barichara invites you to walk, to breathe fresh air and relax and enjoy nature, so don't feel pressured into neglecting your own two feet.
We continued walking through the uptown area of the city where there are two viewpoints. It is a fnatastic spot to take a moment to watch the wonderful scenery of the Suarez Valley River below. Not too far from the viewpoint lies a nostalgic stone cemetery beside the Jesus Chapel. We continued and found the Glorieta, a tribute to the Liberator Simon Bolivar. Another impressive sight is the royal road that leads to Guane, a town that also retains colonial architecture and features a paleontological museum that hosts a collection of fossils including remains of dinosaurs. At the end of our tour, in the upper part of the city, we find St. Barbara Chapel.
The journey through the streets of Barichara is very quiet, although the soaring 25º C temperatures can prove to be uncomfortable. You will not cease to admire this little gem. The streets are lined with shops, cafes, restaurants and a Barichara bakery with a wide range of breads and candy.
Barichara offers a good variety of cuisines with dishes like cabrito, pepitoria, Santander's mute and aerated meats. Similarly, there is a good deal of accommodation options with boutique hotels, tourist lodges and rental houses. We stayed in an old yet well maintained house in uptown Barichara, with the attentive owner Diana keen to make our stay unforgettable.
We left Barichara via the same stone portal where we entered feeling satisfied. Without a doubt, we will be eager to return and spread the word about this hidden gem with our friends.