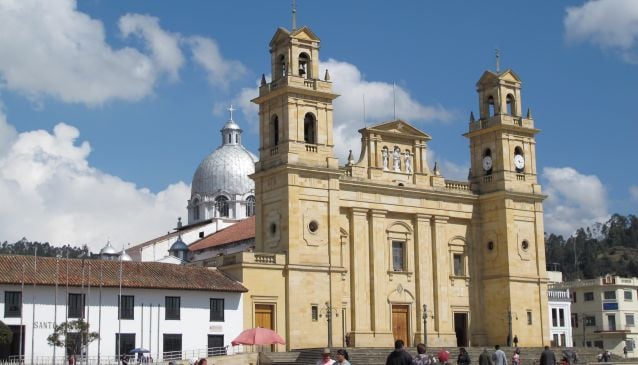 Virgin of Chiquinquira, Patron Saint of Colombia
Arts & Culture
As the story goes, a miracle occurred and the painting was suddenly completely restored
Our trip began on an early morning in Bogotá, we left by the Autopista Norte, (North Highway), a road that crosses a region of ancient dairy farms and green pastures. We were met with fog in some sectors and one of the most beautiful natural lakes called 'Laguna de Fúquene', which, for many years, was an important sanctuary of the indigenous Muisca. It served as a spiritual workplace for the wise men of the community and is considered a sacred place, full of myths, legends, a bird sanctuary and hidden treasures that are surrounded by valleys and the mountains of Andean forest.
After a two and a half hour drive we arrived at Chiquinquirá which is located 115 kilometres from Bogotá, a city that belongs to the Department of Boyacá and is considered the religious capital of
Colombia
.
Catholicism was introduced in Colombia during colonial times and the arrival of the Spaniards. Colombia is now a predominately Catholic country, where about 80% of the population is Catholic. For this reason in all Colombian cities, among the main tourist attractions are a chapel, church, basilica or cathedral.
There is the Santuario Mariano Nacional de Nuestra Señora del Rosario de Chinquinquirá (National Marian Shrine of Our Lady of the Rosary of Chinquinquirá), considered the promoter of the missionary preaching and of the Holy Rosary. The Virgin of Rosary´s statue was brought from Spain by the Dominican friars in 1555. They were commissioned in 1560 to paint the image of the Virgin Mary and the painting was completed on a cotton canvas, woven by the Indians, using a mix of colour soils and the juice of herbs and flowers. The image was placed in the thatched chapel of Suta, where Fray Andrés evangelised the Indians of the region.
Upon the departure of Brother Andrew, the image was abandoned and it suffered significant damage via water, dust and sun. The canvas was eventually taken to Chiquinquirá and used as an object of domestic service. The story is referred to as the Miracle of Canvas Renewal because in 1586 an Indian woman, who was walking with her son, told a devotee who was praying to the Virgin, "Lady, look, that God´s mother has come down from her site, she is at your seat and looks as she was burning herself". Miraculously the painting had been completely renovated. The chapel of the Virgin was erected here and was subsequently lifted the title of Basilica because of the large and ever growing number of pilgrims that visited.
The basilica has an area of 2,800 square meters and is divided into three naves in Roman cross shape, semicircular heading and a wide ambulatory. The 15 interior chapels surround the naves of the Basilica, representing Rosario´s Houses.
The monument to the original painting of the Virgin of Chiquinquirá is behind the altar and the shrine itself backs onto it.